Mini Pendant Lighting
Mini pendant lighting is a striking and fun way to add whimsy and artfulness to any room. We offer dozens of choices in mini pendants here at Illumenate. We're proud to say we've got whatever you need--at the lowest prices around.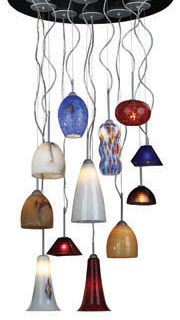 Mini pendant lighting hangs from a ceiling mounted track, monopoint or multipoint mounts, or a counter balanced pull down mount. These lights are configured as single pendants (monopoints) or in groups (multipoints). We offer four main manufacturers in our selection: W.A.C, Nora, and Vaxcel. Each company creates several stunning works in this style of fixture. With this selection, you're bound to find just what you're looking for.
If you want art glass pendants, you've come to the right place. We carry the most breathtaking pendants found either online or in stores. Vaxcel's monopoints and three-light line voltage pendants are available in a plethora of colors and styles. Luxurious reds, oranges, browns, blues and greens dance along this maker's fixtures, creating magnificent light all around. Whether you've got one or three, you'll appreciate the aesthetic beauty of these artfully crafted lighting fixtures immediately.
For more minimalist choices, we also carry bronze, platinum chrome from W.A.C and silver and bronze from Nora. These can be hung on a variety of tracks, making them extremely interchangeable and versatile. Nora's pendants are available in low voltage and line voltage systems, so you can customize them to the very last detail while saving money on energy.