Nora Lighting has developed an elegant solution without limits in Monorail Lighting.
Since no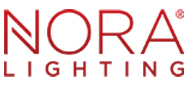 Transformer is required, it is possible to have a single run of up to 2400 watts. because the system is line voltage, dimming is accomplished with common, inexpensive controls. Stylish Pendants and Directional Lighting complete the system.
While no Transformer is needed for the rail, Low Voltage Directional Heads are Available. Components are available in a Silver Metallic finish as well as the new Brushed Nickel and Bronze Finishes.
Nora Rail can run in a straight line , or is easily bent into broad sweeping curves to match architecturally curved counters, walls or furniture. It can be mounted close to, or suspended from a ceiling or other structure.
Nora Rail is as limitless as your imagination!